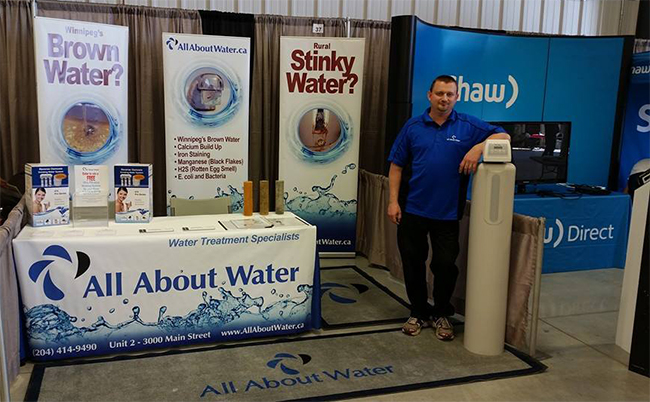 2015 COTTAGE & COUNTRY SHOW
ALL ABOUT US
Do you have the typical story that the majority of our clients have? Are you tired of the run-around that your current water treatment dealer or plumbers are giving you? If so, you have definitely come to the right place! Eric Busch is the owner and operator of All About Water (AAW). His experience in water treatment started in 1999 while employed by Waterite Technologies in Winnipeg, MB; it is here that he gained the experience and knowledge to become an expert in the field. He began with manufacturing residential softeners, as well as, reverse osmosis systems, and eventually progressed to more challenging commercial and municipal equipment. After 6 years with Waterite Eric was promoted to their Filtrex department, which provided sales to home owners, water treatment dealers, plumbers, and commercial clients located in Saskatchewan, Manitoba, and Western Ontario. All About Water is a family owned business and we are committed to providing you with quality service at competitive prices, without the pressure. We are pleased to announce the opening of our retail location – your one-stop shop for all your water treatment needs. We have the solutions you need to get the job done right… the first time!
January 2016
PRESIDENT'S MESSAGE
"I have been extensively involved in the manufacture and distribution of water conditioning products in North America for just over 10 years. Learning from a team with more than 100 years of combined experience, I have learned how to build a business based on the simple principles of providing exceptional product quality and unparalleled customer service and support.
We've done our homework. Our products meet or exceed all industry performance standards. They have been extensively tested by some of the industry's best Engineers. We are so confident that once you try our products you will see why they are the best on the market. While product is important we have also dedicated to providing exceptional customer service. With our fully operational service department located at head office and our factory trained experts, All About Water is dedicated to one thing and one thing only; You. We have also expanded our shop to include the first Fill Station that provides both Reverse Osmosis Water and Alkaline Water.
We're so confident with our quality that we dare to compare. Our professionalism and your experience with us is incomparable. Please have a look at what some of our current customers have to say on our TESTIMONIALS PAGE
ERIC BUSCH