CRYSTAL CLEAN DRINKING WATER
FOUR STAGE REVERSE OSMOSIS SYSTEM:
1. Sediment Pre-Filter – removes silt, sediment, sand, and other particles
2. Carbon pre-Filter – traps minerals and contaminants such as chromium, mercury, copper, chlorine, chloramines and pesticides.
3. RO Membrane Membrane – 75 GPD Thin Film Composite membrane allows only clean water to pass through the small pores. Impurities are trapped and flushed to drain. Treated water is then sent to a storage tank.
4. Carbon Post-Filter – Water passes through another carbon filter after leaving the storage tank to give the water a final polish.
BENEFITS
• Bottled water quality on tap
• Drink more water, less pop
• Stay properly hydrated
• No lugging heavy bottles
• More economical than bottled water
• Remove impurities as small as an atom!
• Remove bad tastes and odors caused from chlorine and organics.
• Perfect for soup, juices, coffee & tea, ice cubes and plants.
FEATURES:
• Heavy duty glass filled polypropylene construction provides double the strength, toughness & durability compared to most other RO's which are typically constructed with ABS.
• TFC 75 GPD reverse osmosis membrane provides up to 99% Total Dissolved Solids (TDS) rejection
• Pre-filters 10″ five (5) micron Spun Polypropylene Sediment Cartridge and 10″ Activated Carbon Cartridge
• Post filter: 10″ Activated Carbon Cartridge • Non air gap chrome plated faucet
• 3.0 Gallon NSF Certified plastic storage tank
• 3/8″ outlet tubing for higher flows
• Automatic shut-off valve
• Exclusive serviceable check valve eliminates spring 'chatter' noise common in other RO's
• Quick connect fittings for ease of installation
• Powder coated bracket
• Dual purpose wrench for use on membrane cap and filter housing
• Dimensions: • 15.0″w x 14.5″h x 6.1″d No Pump
• 15.0″w x 17.7″h x 6.9″d Pump Model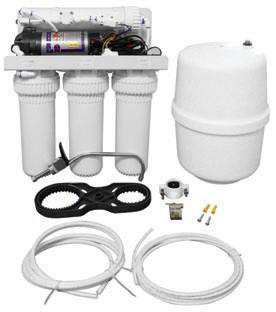 .
BOOSTER PUMP MODEL ALSO INCLUDES:
• Pump mounted on RO to maintain constant water pressure
• Raises water pressure to ideal level for maximum efficiency
• Use on rural supplies with low pressure or high TDS
• Exclusive Auto Flush feature extends membrane life
• Self-priming and whisper quiet
• 24VAC transformer (included) from a standard 120VAC electrical outlet
• Flexible mounting plate, quick connect fittings and pressure shut-off switch
• Max Operating Pressure = 100 PSIG (689 kPa)
• At stated service flow rates the pressure drop through these devices will not exceed 15 PSIG